The IR35 legislation uses a number of tests and criteria based on historic case law to determine your employment status as self-employed or disguised employee. It is not illegal to operate within the scope of the legislation, but it is less financially rewarding, and failure to pay your taxes correctly as per the legislation could result in paying backdated taxes, plus interest and a potential penalty, if ever investigated by HMRC.
All contractors who are paying themselves dividends are at risk of being selected for an IR35 enquiry, which could have catastrophic financial consequences. Therefore it is vital that you are aware of the legislation and have specialist support and advice throughout your contracting career.
If you're concerned about IR35, view our Assured IR35 accounting package or contact us if you have any questions.
---
IR35 Survival Kit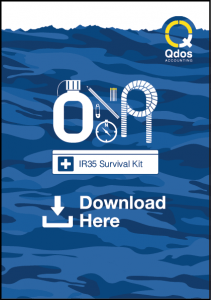 The ultimate tool for contractors…
The important facts about IR35
A step by step guide to the enquiry process
An evidence checklist
A DIY contract review
What HMRC's initial letter looks like
A liability checker
Common myths about the legislation
Simply click on the link on the right, fill in your details and a copy of the Survival Kit will be emailed to you immediately.
If you ever have any questions or concerns contact us on 0116 243 7868.