Operating through a limited company can be a cost effective and tax efficient way of working, and for contractors and freelancers, can be a highly rewarding format.
Qdos Accounting provide a full limited company set up service, but if you prefer to do it yourself, here's how.
Find a name
You're going to need a name for your company before you can do anything else. Choosing a name for your company can be as easy as L-T-D, but please note that there are restrictions on what your desired company name can be. It is your first piece of marketing so spend a little time deliberating on your choices, making sure it is easy to remember and understand, particularly over the phone. Companies House has a WebCheck service so you can check availability of the name you want before registering.
Incorporate
Once you have your name sorted, you can breathe life into it by registering it with Companies House, also known as 'incorporating' your company. Once you have registered, you will receive a certificate of incorporation which is the legal proof of your company's existence. There are three ways to register;
Online
The easiest, fastest and cheapest option is to use the Web Incorporation Service on Companies House website.
By post
Complete the IN01 Application form along with the Memorandum of Association and an Articles of Association and send all by post.
Through a formation agent
Agents vary in service and pricing but there is an extensive list on Companies House website.
Inform HMRC
Now that your company is a real entity, you will need to let HMRC know that you are going to owe them some tax. You must inform HMRC about your business within three months of starting any business activity, including simply looking for a contract. HMRC will then send you your Unique Taxpayer Reference along with information on how to complete your company tax returns and pay your corporation tax.
Looking for more information? Download our guide below.
---
Going Limited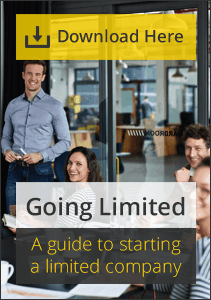 A guide to starting a limited company
Our guide to becoming a limited company includes the following tips:
The Advantages of going limited
How to set up a limited company
How to set up a limited company with Qdos
Business insurance you may require
How IR35 effects a limited company