Whilst using an umbrella company takes away much of the administration of running a company and the worries of IR35, operating through a limited company is the most cost effective and tax efficient way of working, and with Qdos Accounting at your side, is arguably just as easy as working through an umbrella company.
As a result of tax changes from April 2016, operating via an umbrella company means that expenses relating to travel and subsistence cannot be claimed back as a legitimate business expense. For longer term, higher rate contracts, it is more beneficial to trade as a limited company. Not only will there be significant tax savings, but you also have a higher level of control over your finances.
Calculate how much you could save with our Umbrella vs Limited calculator:
We provide a full limited company set up service as standard, including a registered office address so you don't have to deal with all the correspondence from HMRC and Companies House, however should you wish to do it yourself, here's how:
How to Set Up a Limited Company
Find a Name

You will first need to choose a name for your company. Companies House has a WebCheck service to check availability before you come to a final decision.

Incorporate

For your company to come into fruition, you must register it with Companies House. You can do this online, by post, or with a formation agent. You will receive a certificate of incorporation which legally proves the existence of your company.

Inform HMRC

You will need to tell HMRC about your business within 3 months of starting business activity in order to pay your corporation tax, PAYE, and VAT.

Prepare your finances

Legally, you will need to hold a separate bank account to your personal finances so you will need to set one of these up, as well as appoint an accountant to handle your accounts should you choose not to do this yourself.

Get business insurance

It is likely that you will need to hold certain business insurances, such as Professional Indemnity, as part of contracts, but it is also good practice to protect your new company.

Consider IR35

You will now need to take into account the IR35 legislation which looks to determine your employment status from a tax perspective. Qdos are one of the UK's leading authorities on the subject, with over 15 years of experience in defending contractors and assessing contracts.

Get Contracts

It's time to write your business profile, set up your LinkedIn account and start hunting for contracts.
Click here to download a free checklist for setting up a limited company
---
Going Limited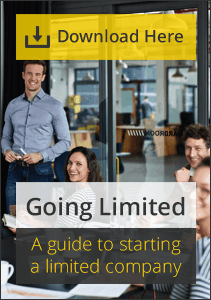 A guide to starting a limited company
Our guide to becoming a limited company includes the following tips:
The Advantages of going limited
How to set up a limited company
How to set up a limited company with Qdos
Business insurance you may require
How IR35 effects a limited company